Theresa Goge, Licensed Massage Therapist
Inner Wisdom Body Therapy 970-626-3035
Sometimes it's better to Give than to Receive...
Give The Gift of Comfort & Healing
Gift certificates are available for all occasions and the perfect gifts for friends, loved ones and business associates... so give them the experience of deep comfort...treat them to a session!
Click Below or Call/Text Me to have one sent - 970-626-3035
Stock photos show $100 gift certificates - The actual price will be the cost of one session.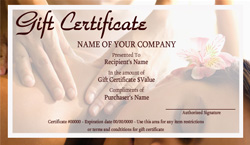 Click Below >>

© Copyright 2023 Theresa Goge, Licensed Massage Therapist. All rights reserved.